Albion residents are no longer represented justly by their elected representatives.
Albion City Council is not governing with the city's best interest in mind. They are making decisions that benefit their special interests. Party politics are not at play in this instance; this issue arose from the personal conflict between city council members over printed-out maps. It is well known Precinct Council Members are lacking professional communication skills, not managing conflict appropriately, retaliating, and opening create conflict and the appearance of conflicts of interest. This time the unprofessionalism has gone too far and become unjust. As one taxpayer said they bullied Precinct 6's representative out of his seat.
---
Wasted taxpayer money on Precinct member training
Many training sessions were held to teach professional skills to the Precinct Council Members; unfortunately, the Council is too defensive, and as the YouTube videos show, many Members are only waiting for their turn to speak. Defending themselves has become a main priority. What is considered retaliation in a corporate environment has become commonplace behavior for City Councilmember's and detrimental to Albion, Michigan's revitalization. The most recent alleged conflict occurred between Councilmember Shane Williamson, Linda LaNoue, Nora Jackson and Marcola Lawler. The three women are claiming Mr. Williamson insulted and disrespected them.
---
Tom Petty? Or Just Petty and Does it Ever Stop?
Friday, March 10, 2022
Laundry List submitted by L. LaNoue, 5th Precinct City Councilmember
With the support of Mayor Pro-Tem N. Jackson (3rd Precinct) and Councilmember M. Lawler (4th Precinct), as required by the City charter.
This document serves to provide ten (10) days' notice to all Albion, MI city council members that a public hearing is being called for Monday, March 21st, during the regularly scheduled city council meeting. The following is a written summary of the facts giving rise to the alleged violations of City Council member Shane Williamson that warrant the public hearing.
Abuse of power and Not Acting in the Public's Interest
Project Much Linda…
---
I don't know doesn't fly anymore
Instead of handling the dispute professionally and legally, Councilwomen Lenn Reid, and Marcola Lawler, took it upon themselves to undermine the City Manager Haley Snyder; it was her job to make sure redistricting was done justly and appropriately with the least amount of cost to taxpayers. Marcola Lawler created Resolution #2022-06, amending resolution #2022-04 that City Council Members initially agreed upon. Resolution #2022-06 allowed Lenn Reid and Marcola Lawler to Redistrict Albion to their personal liking. It is well known that Lenn Reid contacted a recent Albion College Graduate named Robert Joerg and asked him to create a redistricting map for the City of Albion, Michigan. LaNoue, Reid and Lawler's actions look like target harassment or retaliation after the alleged disrespect took place of Shane Williamson.
---
Robert Joerg, Director of Advocacy at Michigan Laborers District Council
Robert Joerg produced a map for Albion City Council Members to Vote requested by Precinct 3's Representative. Len Reid submitted the Third Map for Redistricting approximately six hours before starting the Special Council Meeting. Did the representatives' from Precincts 1, 2, 3, 4, and 5 aware their yes vote potentially Violates the Michigan Constitution? The yes vote to approve Resolution 2022-06 potentially violated Article 7, Sections 1 through 34. The Specific Article sections in the question of violation are 22 and 33. Did the same representatives also violate the Michigan 1909 PA 279, The Home Rule City Act, and the Albion City Charter, Chapter 1, 1-128 Ethics?
Michigan Constitution Reads
Article 7. Section 33. Removal of elected officers. Any elected officer of a political subdivision may be removed from office in the manner and for the causes provided by law.

Michigan Constitution Article 7, Section § 33
The Home City Act Reads
According to the Michigan 1909 PA 279, The Home Rule City Act. Local governments could no longer be created, abolished, or consolidated without the consent of the electors who reside within the affected territory.

Michigan 1909 PA 279, The Home Rule City Act.
---
The Burger King Tennis League Coach Redistricting Guru?
The Mayor of Albion asked for Joerg's credentials, and he rambled acronyms. In December of 2021, he posted on his Facebook about an independent Commission on redistricting; there is nothing more besides some links to some convoluted maps. Joerg seethes with opinions without documented experience to back it up. Yes, he graduated from Albion College in 2019; he works as a Director of Advocacy at Michigan Laborers District Council. According to the Michigan Labors District Council Board, "Robert Joerg is supposed to work with cities to hire laborers, advocating for the union." Yet, Joerg came to Albion without out knowledge. Where is Joerg's experience that made Len Reid approach him? This looks more like the way to target and harass, and bully Shane Williamson into resigning.
Using Albion to Relaunch His Political Career
After searching through the information available it looks like Robert Joerg pretended to be a subject matter expert on redistricting. There isn't any evidence that he has created maps for any other municipality. He did not have any business redistricting Albion. It is incredibly apparent Joerg's purpose was entirely political, and he wanted to use this experience, to relaunch his political career after running Anuja Rajendra Campaign. He is a disgrace to Democrats and Republicans alike because it appears he openly gerrymandered the redistricting of Albion. He is the epitome of a special interest group enabler. Also, if you are reading this, Joerg, leave the Pee-Wee Herman Suit home.
Failed Campaign Manager
Does drama follow Robert Joerg everywhere? While working as Anuja Rajendra Campaign Manager it appears Michigan Senate candidate faced criminal charge over campaign literature. Mlive wrote "Michigan election law states that any person who advertises or uses in campaign material the words incumbent, re-elect or re-election, or otherwise gives the impression that they're the incumbent when they're not, is guilty of a misdemeanor. Court records list "wrongful use" of "incumbency designation" as the charge against Rajendra. The case was filed Oct. 11 after the Washtenaw County Prosecutor's Office decided to bring a charge for an alleged July 1 offense."
Issues continue to follow
The Center Square wrote "Julianna Pastula, the general counsel of record for Michigan's Independent Citizen's Redistricting Committee (MICRC) resigned Wednesday night amid lawsuits over proposed maps. The Detroit Free Press first reported the story, which was overshadowed by Gov. Gretchen Whitmer's 2022 State of the State address." The purpose of this letter is to provide official notice of my resignation as General Counsel," Pastula wrote. "Pursuant to Section 2 of my Employment Contract 30-day written notice is required. This makes my resignation effective February 25, 2022." The resignation followed hours after oral arguments from the lawsuit from Michigan' Legislature Detroit Caucus that claims the maps dilute the power of majority-Black districts."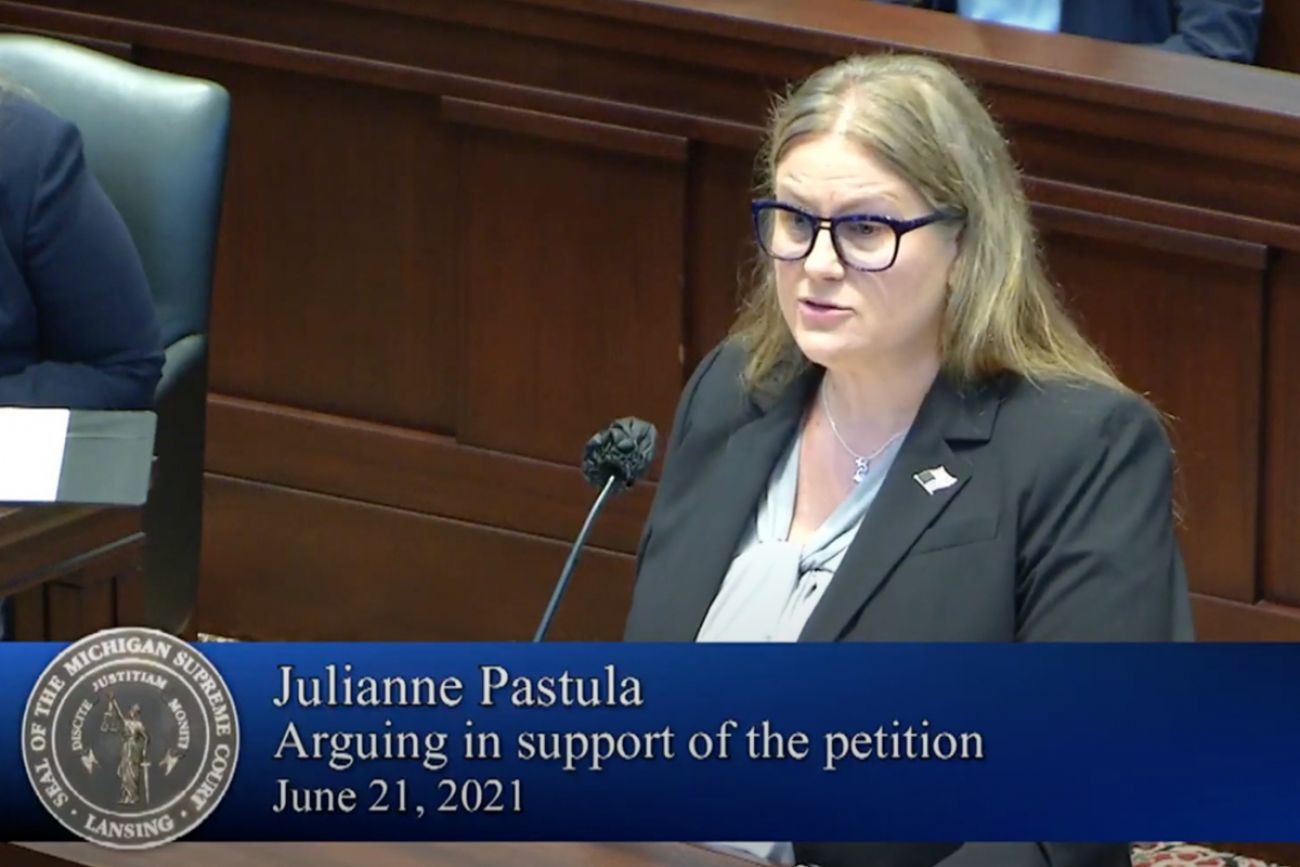 ---
Looking at the map on the right, can one tell it moves the precinct boundary line over one block? Robert Jorge's map does not give any detailed information, and it is entirely ambiguous. Jorge's map removed City Council Member for Precinct 6 from his seat. Why? A City Council Member must live in the Precinct they represent, and when the boundary line moved, Shane Williamson became a resident of Precinct 5. It is curious why Robert Jorge did not use the detailed maps this software provides instead of giving the residents of Albion this outline.
Anyone can make a map with Districtbuilder
Why does Joerg's map look so ambiguous, wasn't the complaint about not seeing the roads? Well, one cannot see the streets on Joerg's map, so why not be fully transparent and say, "I don't like Shane, he was mean to us, and we don't want to work with him anymore, so we gerrymandered to remove him because that is precisely what it looks like.
---
City Council Members Go Rouge
Albion City Council Members Linda LaNoue, Nora Jackson, Lenn Reid, Marcola Lawler, and Donivan Williams voted to adopt this dubious map more than once deciding they know better than the taxpayers of Albion, Michigan. Did they even take any public input on the map presented by Robert Jorge into consideration? Lawler said she knew what Gerrymandering is but she could not describe it. City Attorney Cullen Harkness advised them against their actions, and they ignored the field expert. The way to overturn city councils decision would be to sue the City of Albion.
---
Could this be entirely about race and power?
So many rumors are spreading through Albion regarding the open City Council seat and who will be put into it. Many Believe that the current councilmembers want a black-only council, and they will vote to put Ashley Woodson, President of the School for Public Purpose, into the 6th Precinct Seat. Time will only tell if that is true or false. It is also said that those who support the Potential Gerrymandered map are working hard to divide Albion down racial lines. Last year everyone was rallying for equity and inclusivity, while the current racial climate represents a separate but equal mentality. The continued declarations of racism without evidence only make things look more hypocritical and bigoted, some would say they are doing the devils work while others just call them assholes.
Recognizing the on-going history of racism in science, and understanding of the biological myth of race will help unpack the social construct that still makes racism all-too-real, present, and harmful. In my 20+ years of teaching, I cannot think of any other curriculum I have used that so adeptly crossed disciplines, bringing science, society, and public policy together for teachers and students in ways that truly help them think critically about the world we live in.

Elliott Gimble, Science Teacher, Lexington High School, MA
There are voices whose words are exceptionally educated, wise, loving, inclusive, introspective. They are the beautiful souls with a light we are all attracted to and want to be like; they make everyone feel safe, respected and understood. Maybe it is because they follow the teachings of Christ and try to live by those teachings and not grouping people into one over-generalized category or projecting their trauma onto others, thus creating more clients for Summit Pointe. Eventually there will be a point where we come to resolutions about our differences. In that case, it is imperative that we rid the conversation of those who benefit and profiteer from those differences.
I am afraid that there is a certain class of race-problem solvers who don't want the patient to get well, because as long as the disease holds out they have not only an easy means of making a living, but also an easy medium through which to make themselves prominent before the public.

Booker T Washington
The Bone Contention is Albion City Council Precinct's Unethical Representatives. While it is true that anyone can indeed serve, not everyone can lead. There is no insinuation leadership is a cakewalk or that people are born leaders, but leadership can be learned with some effort. The knowledge needed to make decisions and govern as a Councilperson is not hidden. The Michigan Municipal League created an explicitly written handbook to educate new public officials and refresh the more seasoned public official. "Handbook for Municipal Officials." and Albion City Charter Chapter 1, Sec. 1-28. – Ethics.
Hey, the person reading this thinking "racism," unclench your jaw; only God can judge me, and you are not God. People can question motives and state observations. Some call this critically thinking.
I don't know is not an excuse
From the questions proposed to the City Attorney, it is also apparent the information required to perform the duties as a Councilperson was never sought out. Even if the information was inquired, the information was not fully comprehended, or the official received incorrect information from outside sources claiming to be subject matter experts. Instead of making things better for the City of Albion's Residents, the Elected Officials decided war was better than peace on each other is more critical than decision-making. Instead of learning and digesting the constructive criticism from their neighbors and the Michigan Municipal League, they chose to deflect and not take accountability for their actions or inaction.
Recall the Doggone Mayor Immediately

Tim Spicer
People who cannot make a just, equal, and unbiased decision do not have any right to demand special class rules to evade the existing practice of law. Respect is a path that works both ways, and the current rhetoric is a blatant disrespect of others. It appears to always be along racial lines; this time, it is another targeted attack on a female Latina mayor that has done nothing but uphold the Albion City Charter, the Sunshine Laws, the Michigan Constitution, and the Federal Constitution. Laws are written to remove those who abuse power or circumvent the democratic process by eliminating the constituents from the equation. No legal basis has been provided by anyone believing the recalls are unjust when Judges approve the language. It also seems like those with this mentality want the rules to apply only when they benefit themselves, or the particular special interests lobbied.
Dear Albion, I am tired of your Shit
O Holy Ghost, divine Spirit of light and love, I consecrate to Thee my understanding, my heart and my will, my whole being for time and for eternity. May my understanding be always obedient to Thy heavenly inspirations and the teachings of the holy Catholic Church, of which Thou art the infallible Guide; may my heart be ever inflamed with love of God and of my neighbor; may my will be ever conformed to the divine will, and may my whole life be a faithful following of the life and virtues of Our Lord and Savior Jesus Christ, to whom with the Father and Thee be honor and glory for ever. Amen.
Love,
Evans-Priami