Doctor Bill Dobbins, Chief Executive Officer of Caster Concepts and his daughter Caroline Dobbins-Hurteau, a Professional Community Builder, highlight the 2018 revitalization year. They explain that 2018 was a year of continued growth within the Albion Michigan community, and while many other cities might have given up, our society chose to prevail.
Members of the Albion community give back without much thought and are well deserving of the many new businesses that have opened. This unification has occurred in uncommon fellows to celebrate the successes creating aspirations, and bright inspiration for the future of this town.
The most noticeable addition to the Albion, Michigan Community in 2018 was the grand opening of our new Courtyard by Marriott.
Albion Malleable Brewing Co. is a $1.2 million project that had its grand opening on May 21. The opening of the brewery is helping breathe some life back into Albion's downtown. A walk down Superior Street will still show you some empty, buildings but undoubtedly those building will not remain empty much longer.
Pure Albion also opened in the summer of 2018. The shop sells Albion linked merchandise along with t-shirts and other accessories many of the items are printed with street names, landmark names, and local monuments all the details are super clever and include one of a kind pieces of art from local artisans.
The Office Albion provides Co-working spaces. Co-working spaces are ideal for start-up businesses and entrepreneurs looking for a better alternative to working from home. In comparison to working at home or from a garage, this may be a great option, and you may find yourself more productive in a Co-working space.
The Peabody Lofts is an additional development of the 400 Block of Superior Street. The 2-bedroom, 2-bath loft apartments and were renovated by ACE Investment Properties with the support of an $800,000 grant from the Michigan Economic Development Corporation. According to Apartments.com " The Peabody Block Lofts are brand new units in one of Albion's oldest downtown buildings, the Peabody Block Building. The building has undergone a historic renovation, and the units available in the building are in the heart of downtown. You can live steps away from restaurants, businesses, and cultural happenings as well as all of the action at the new hotel. Other amenities include: Elevator Free high-speed internet and basic cable Brand new stainless steel appliances, including microwave and dishwasher Secure key fob access Trash included Extensive sound deadening On-demand, independent hot water heaters for each unit. " https://www.apartments.com/400-s-superior-st-albion-mi-unit-202/kwnkyf8/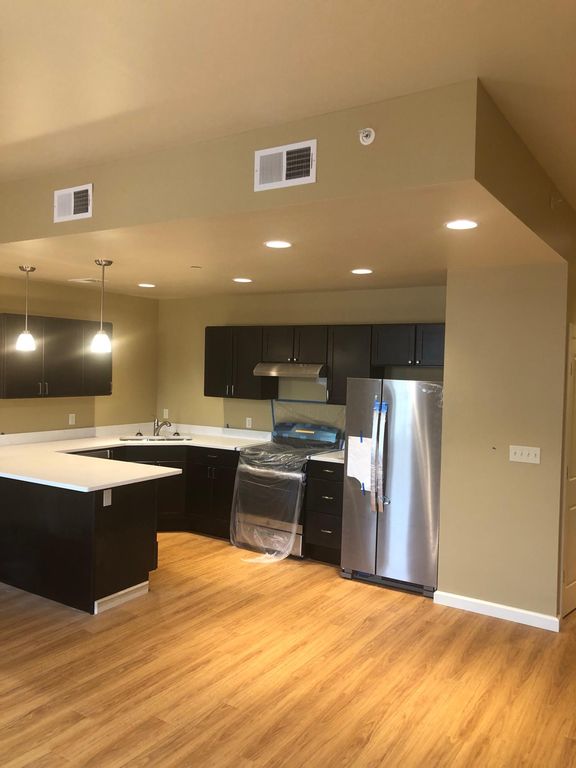 The Big Albion plan; Will transform about thirty storefronts and create 55, 1 and 2 bedroom upper-level apartment units on Superior Street.
According to local historian Frank Passic, Munger Place Apartments originally opened as the Parker Inn in 1926 and operated for decades as Albion's largest hotel. The Parker Inn has been closed since 1970 and thanks to an $850,000 grant through the state Department of Health and Human Services obtained with a lot of help from different Michigan Senators Albion Residents and College students will have A new health care clinic with improved access to medical services for both Albion College students and Albion residents. Opening early 2019